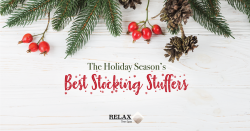 The Holiday season is finally here! It's time for quality time with friends and family, great food and exciting gifts. These times give us the best memories, which we can cherish forever. However, the stress of trying to find those perfect gifts can sometimes cause you to miss wonderful moments.
Running around every store in Rochester and Victor can be a hassle and add unnecessary stress to this joyful timeframe. There is an easier way to save time and find perfect gifts during this holiday by exploring these top-10 stocking stuffers offered at RELAX The Spa in Rochester.
1. Essential Oils - Essential oils have aromas which can calm you if you're feeling anxious. They also come in many different scents including lavender, peppermint, lemon and rose.
2. Neck Warmers - Do your loved ones feel tense sometimes? Try getting them a neck warmer! This gift will ease their shoulder and neck muscles into complete relaxation at any time of the day.
3. Farmhouse Fresh Hand Cream - This is a perfect gift for the wintertime. It's small enough to go everywhere with you, and also prevents your hands from drying out in the harsh cold air.
4. Bath Mitt - This mitt makes it easy for you to reach every part of your body while relaxing in the tub. It also helps lather soap for a refreshed and clean feeling afterwards.
5. Spongelle Body Wash Infused Sponge - This sponge has body wash inside it, so there's no need to buy extra products. Not only is this convenient, but it is also long-lasting.
6. Farmhouse Fresh Body Oils - These give your loved one the chance to soak in beautiful scents and feel refreshed while also keeping the skin moisturized.
7. Farmhouse Fresh Sampler Packs – These popular packs have scrubs, masks, lotions and oils which can be used to hydrate and tone your skin. The sampler also gives people the chance to learn what they like about spa products and what they don't like.
8. Nail Polish - Does your loved one like to paint their nails? Nail polish allows them to be creative and stylish. Even if they don't paint their nails all the time, they are bound to do it on special occasions.
9. Candles - Candles are always a great stocking stuffer because everyone can use them. No matter what the personality is of the person you are buying for, candles give off nice scents, which no one could pass up.
10. Gift Cards - Not sure what your loved one will like and use? Just get them a gift card so that they can choose for themselves! This is an easy solution, which will give you smiles all the same. Guests can choose a spa service or retail products.
Enjoy this wonderful time of year and give spa gifts in the stocking this holiday!
RELAX The Spa in Rochester offers more than 70 distinct relaxation and luxury treatment options for beauty, wellness and health located in Rochester. Our ultimate, full service, day spa provides guests with solo, couple, party and even corporate event experiences that melt away stress and provide calm. Slip into one of our luxurious robes and let our trained technicians treat you like royalty.