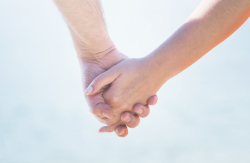 It may not come as a surprise, but the top 6 body parts that will help to reveal your age are your hands, face, eyelids, neck, elbows, and hair. Getting older is something that we all need to embrace one way or another, for many of us holding onto our youth is important. Why is it that the hands are the most common body part to give away age?

Studies show sun damage as one of the main causes for aging hands. Many people don't recognize the signs of aging hands until age 30 to 40, once the effects on their hands have already taken place in their younger years.


The Changing Appearance of Your Hands can Begin to Show Signs of:

Dry skin
Your skin eventually produces less of its natural oils that keep your hands hydrated and smooth. Common house hold tasks like washing the dishes can leave your hands without moisture resulting in dry aging hands.

Visible Veins
When skin begins to lose its firmness and thickness, the veins on the back of your hands will appear more prominent.

Sunspots
Over time dark patches of skin become visible on our hands, this results in what is known as sunspots. Sunspots form when skin has been exposed to UV light over a period of time. SPF is important on the back of your hands.

Wrinkles and Fine Lines
As we get older our bodies begin to loose elasticity, this leads to wrinkles and fine lines. By the age of 20, wrinkles and fine lines can begin to form. As your hands become older so do the wrinkles!

Weathered Nails
It's expected that your nails become weaker as you get older. Nails can also undergo discoloration, allowing them to appear darker or more yellow. Fingernails lose their strength and become damaged over time just as our hands do. Combating the signs of aging on your hands.


Fortunately there are many options to keeping your hands feeling and looking like new, it's never too late to start! Skin care experts say you should apply sunscreen to the backs of your hands, in addition to using a good hand cream at least once a day. Keep your hands well moisturized, the sooner you establish a daily regimen the better.


RELAX The Spa Rochester Announces New Anti-Aging Manicure

Age Corrective Manicure
Reveal more youthful skin with this signature 50-minute manicure experience. Treat signs of aging on the back of your hands with our powerful age corrective solution. This treatment is a 'facial for your hands' and includes an exfoliation, mask, serum and hydration.





We invite you to join us at RELAX The Spa Rochester to experience our new Anti-aging Manicure Service! Book online using the RELAX The Spa Rochester App, or call 585-412-4994 to schedule. Online scheduling at RELAX The Spa Rochester can be found under Booking.