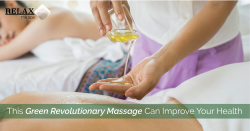 RELAX The Spa's treatment menu has recently grown by one. The service is infused with a three-letter acronym powerful enough to target muscle memory and arthritis inflammation. It's caught the attention of exercise enthusiasts, outdoor warriors and those with knee and hip complaints.
The CBD compound is highly regarded for anti-inflammation, antioxidants and anti-anxiety. Cannabidiol (CBD) is found in cannabis, but unlike THC, CBD does not change a person's state of mind.
And now, RELAX The Spa is applying a CBD oil to its latest massage for the ingredient's undeniable medicinal advantages.
"As far as spa treatments go, there's nothing quite like a CBD massage in the entire country," said Melissa Endres, RELAX The Spa's General Manager. "The healing benefits of the massage are enormous. It can rewrite and enhance flexibility to ailing joints so much faster than anything a spa can provide right now."
RELAX The Spa's 80 minute CBD massage uses oil that is organically and sustainably grown by Hempfield Botanicals. This treatment, along with hot pads and cupping, will rejuvenate even the sorest body. Endres understands a cannabis-related application may be controversial to some, but points to the undeniable scientific benefits.
"The perception of cannabis is greatly changing," said Endres. "CBD is a powerful tool that can stifle the painful effects of arthritis and sports injuries and doesn't come with mind-altering components."
What is Used in the Massage?
Cannabidiol is infused into massage oils, lotions and balms and used topically during a treatment. The combination of all of these factors will result in the most relaxing massage you have experienced.
What are the Benefits of the CBD Massage?
Not only is this massage therapeutic, but it also has many health benefits. Medical News Today explains scientific and clinical research have identified CBD as a potential healing and treatment agent for, but not limited to, alcoholism, anxiety, arthritis, depression, diabetes, epilepsy, inflammation, multiple sclerosis, neurological disorders and PTSD.
Are There Any Trouble Areas with CBD?
CBD doesn't really have many health related concerns. One of the biggest issues has to do with skin sensitivity. As with any topical lotion or oil, there is a chance sensitive skin may have an allergic reaction.
Make sure you contact your physician if you have any doubts about getting this treatment. This new CBD massage offered at RELAX The Spa is a revolutionary practice that could all around improve your health.
Why not give it a try today? Call 585-412-4994 to book your CBD massage!
RELAX The Spa in Rochester offers more than 70 distinct relaxation and luxury treatment options for beauty, wellness and health. Our ultimate, full service, day spa provides guests with solo, couple, party and even corporate event experiences that melt away stress and provide calm. Slip into one of our luxurious robes and let our trained technicians treat you like royalty.