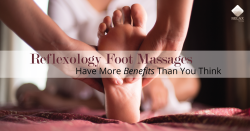 Getting a foot massage can be a wonderful experience, especially after a long week of being on your feet. Usually after having this type of massage, you feel restored and ready to continue on with your daily activities.
But did you know that a foot massage can give you more benefits than you think?
This foot massage is called reflexology, or foot reflexology. This treatment uses a technique which targets points on the foot in order to alleviate pain and discomfort, while also removing energy blockages throughout your body. According to Weil, a map for the rest of the body can be found using the nerve endings in your feet.
Your massage therapist will use the reflexology map in order to find those certain blocks of energy to release endorphins for alleviating pain and stress. It can also improve your circulation due to the release of these energy blocks. What's more relaxing than that?
Other than improving symptoms of pain and stress, Mayo Clinic gives some examples of the benefits of foot reflexology. This treatment can enhance relaxation and sleep for people who have trouble doing so. This type of massage can also help with anxiety by giving individuals a sense of complete relaxation.
If you don't feel comfortable getting full body massages, or just prefer foot massages above all others, foot reflexology is the perfect way to relax your entire body. A Reflexology Foot Massage at RELAX The Spa in Rochester will restore the energy pathways throughout your body, resulting in you leaving your session feeling revived and lighter than before. Your massage therapist at RELAX The Spa will cater to your needs, making a unique and irreplaceable experience that you will not be soon forgotten.
RELAX The Spa in Rochester offers more than 70 distinct relaxation and luxury treatment options for beauty, wellness and health located in Rochester, Central New York. Our ultimate, full service, day spa provides guests with solo, couple, party and even corporate event experiences that melt away stress and provide calm. Slip into one of our luxurious robes and let our trained technicians treat you like royalty.