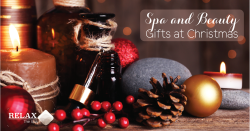 Everybody likes to think they are being looked after at Christmas, so why not use the festive season to give a friend or family member some festive relaxation, pampering and beauty instead of yet another box of candy they'll regret as soon as the New Year diet begins?
Depending on how well you know the person you're buying for, a post-Christmas spa detox could be just the thing you're looking for when it comes to gift inspiration. We all feel sluggish and over-fed at the end of the Christmas and New Year festivities, so why not book a loved one in for a night in a spa, with all the trimmings and a few nice treatments thrown in? You might even make it into a perfect excuse for you to join them…
If a spa trip isn't on the cards, why not offer a revitalising facial to beat the tired, gray winter pallor that we often get from centrally heated homes and offices, too much good food and not enough exercise in the winter months. Treat someone to an oxygenating facial or a booster treatment and they will thank you every time they look in the mirror.
For a little bit of glam, a manicure or nail treatment is a great gift and most beauty centers will have a nail tech on hand to perk up chapped or dry hands and feet. Throw in a super-glamorous gel polish is the color of their choice and it will be fabulous. Most spas honour gift certificates for several so if you know that your friend has a big event coming up that they really want to look their best for, make sure that you ask for the gift certificate to be extended to at least that date.
Don't forget retail; if your loved one is a fan of professional beauty products, have a snoop around his or her bathroom and see what they have in their collection. If you spot a premium beauty brand, make a note and see if you can get it in your local beauty clinic. Most people would really appreciate the fact that you've gone to all that extra effort just to find out their favorite brand; just don't get caught snooping in their medicine cabinet!
Alternatively, ask their local day spa for a skincare gift certificate that they can redeem for any beauty products or treatments of their choice.
Last but not least; your local spa will be full of lovely little stocking stuffers and gift ideas at this time of year; stop in and see what you can find. You might not be able to resist treating yourself to a little something, but hey, it IS Christmas…
RELAX The Spa in Rochester offers more than 70 distinct relaxation and luxury treatment options for beauty, wellness and health located in Rochester. Our ultimate, full service, day spa provides guests with solo, couple, party and even corporate event experiences that melt away stress and provide calm. Slip into one of our luxurious robes and let our trained technicians treat you like royalty.