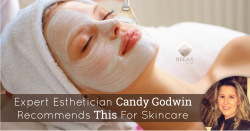 Treating your skin right is one of the most important aspects of beauty. With just a little bit of effort, you can make your worn or blemished skin look better than ever. No one understands this more than Candy Godwin, an esthetician at RELAX The Spa in Rochester, NY.
She learned her passion for skin care while experiencing spider vein and hair removal from laser treatments. Since then, she has gotten her training from the National Laser Institute in Scottsdale, Arizona while also becoming a certified esthetician in New York and Florida. She has now been practicing the skill for 5 years.
Candy has also shared her love for skin treatment by training in many aspects of the trade. She said, "I have many certifications including: Instantron Elite Spectrum Electrolysis Systems, Hydrafacial, Eminence, Skinceuticals and serveral other laser systems, skincare product lines, wax lines, lashes and tanning. I love learning and training others!"
Her ultimate hope is to help all realize their own skin goals by making people feel beautiful and boosting their self-confidence. "By doing the right things with the right skincare products, everyone can improve the appearance of their skin. It just takes a little effort, encouragement and perseverance to meet your skincare goals."
Making an appointment at RELAX The Spa is a great start to realizing your skin's full potential. According to Candy, the staff at RELAX "strive to have happy and satisfied clients." Just like its name, the spa is also a relaxing and professional atmosphere, which encourages customer happiness.
"I would love to help you meet your skincare and beauty goals. My passion is improving lives by improving how you feel. I would be happy to be a part of your journey!" continued Candy.
Book Candy for skin related services or one of our other talented estheticians at RELAX The Spa today. She is available for organic facials, hydrafacials, anti-aging facials and all waxing services. Call 585-412-4994 or book online by visiting our website.
RELAX The Spa in Rochester offers more than 70 distinct relaxation and luxury treatment options for beauty, wellness and health. Our ultimate, full service, day spa provides guests with solo, couple, party and even corporate event experiences that melt away stress and provide calm. Slip into one of our luxurious robes and let our trained technicians treat you like royalty.