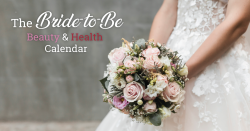 Numerous hours of energy are poured into planning. From the ceremony intricacies, table centerpieces, reception décor and the 50 other moving projects of your soon-to-be wedding, one main detail may not be given enough attention until the very end: YOU!
Yes, we're looking at you, gorgeous.

With everything going on, taking care of yourself in advance become less of a priority. That's why RELAX The Spa developed a concise health and beauty layout that is not overwhelming (because let's be honest, you have enough going on!) but still provides enough guidance to help you feel radiant and strong when you walk down the aisle.

After customizing a wedding countdown clock with platforms like Time and Date, Wedding Countdown (mobile app) or Your Wedding Countdown (which are free), use the month-to-month layout below as a guide to focus some extra and well-deserved TLC for the girl in the mirror.
6 Months Out
Establish Hairstyle and Skin Goals
Clarify the length and color of hair you want to achieve for the big day. Now may not be the time for a fun, spontaneous chop. Next, take a look at your skin. Do you want to smooth out acne scars or fade sunspots? Look into HydraFacial Options to support your skin ambitions.

Workout Goal: Meet Your Personal Trainer or Find an Accountability Partner
To decompress and to keep your body running efficiently, set a goal of going to the gym three to six times a week for 30 minutes to an hour. Sweating can bust pre-wedding stress buildup as well as help keep you trim. Meet with a trainer and nutritionist to drill down into the details if you have specific goals to reach. MyFitnessPal is a great app to help keep you accountable for training and eating while being goal-centric.
5 Months Out
Schedule Test Appointments
After conducting some research, select a local salon that you'll use for makeup and hair for the wedding. Set up a trial run with the salon for next month to ensure the make up style and your hairdo are exactly what you are looking. Just because something looks one way in a magazine ad doesn't mean you'll love it on you. That's why you need to try everything out beforehand and see how it looks together.
Brow Taming
Schedule an appointment to wax your eyebrows to develop a defined angle and clean up stray hairs. Starting now will ensure less maintenance closer to the big day.

Book a HydraFacial
Remember to keep a specific skin goal in mind by adding a unique booster to your service

Workout Focus: Arms
4 Months Out
Spray Tan Trial
Ditch the dangerous UV rays of tanning beds and give this all-over glow method a go to see how it looks on your skin. Don't fret, not all locations will make you transform into an Oompa Loompa. This smooth and even skin-tanning alternative is worth a try.

Hair and Makeup Trial
Bring examples and ideas to your beautician near the venue to give them somewhere to start. Now is also a great time to talk about run-of-show that morning too. Are you able to bring a personalized music playlist to the salon? Are light snacks and mimosas provided or are those things a bridesmaid will need to get?

Workout Focus: Legs
3 Months Out
Teeth Whitening
Although you can check-in with your dentist to have teeth whitening done professionally, chances are high your local supermarket has kits that work just as well and are cheaper. Keep those pearly whites, well, white!

Workout Focus: Booty

Hair Tune-up
Grab a healthy trim and a touch o' color if necessary.

Two Months Out
Massage
You're entering the final phase of wedding planning and by now, even more so, you may be feeling slightly stressed with decision making and planning. Workout the knots in your mind and in your back with a relaxing, full-body release. Book a hot stone massage, deep tissue massage or classic shoulder and back massage this month to unwind and re-center.

Workout Focus: Cardio
1 Month Out
Brow Refresher
Workout Focus: Full body
10 Days Out
Scrub Pedicure
Experience bliss with a cleansing soak, scrub and nail shaping. Finish the experience with a hot stone foot massage.

Increase Drinking Water Intake

Workout Focus: Full body
5 Days Out
Full Body Treatment
Retreat from the wedding planning for a little by pampering your skin and mind with a full body spa service. Look into herbal mud treatments that aim to revitalize fatigued and sore muscles meant to restore your body's balance.
Or check out the restful massage for a soothing head, neck, shoulders and back massage blended with warmed herbal oils. Bonus: this massage helps you sleep well at night.

Polish Your Nails
Prep your nails with a manicure and pedicure for the big day.

Spray Day
Get a spray tan today if you liked the look from your test run.

Workout Focus: Full Body
1 Day Out
Prime Your Skin
Moisturize your face with a nutrient-based product to prepare your face for tomorrow's makeup session.
Find a Little Zen
Lean on whatever activity calms your mind and brings you balance. It could be reading, yoga or writing. Use this as an outlet to fully relax.

Walk It Out
Run or walk two to four miles.

The Day
Clear the Mind
Go on a quick run or walk to tap into meditation or yoga.

Eat Up
Enjoy a good, full breakfast. The day ahead of you may turn a little crazy.

Glam Up
Get makeup and hair done with your bride tribe.
Go Time
Turn that aisle into a catwalk with confidence, beauty!

Note:

For all other planning suggestions like when to secure a honeymoon destination, when to send invitations and other nitty-gritty details, check out The Knot, Wedding Wire or Zola.


Call 585-412-4994 for RELAX The Spa's beauty and wellness experts in Rochester, N.Y. They'll assist you in booking a massage, facial or other therapeutic services for your big day!