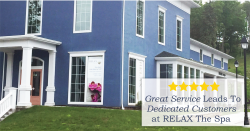 RELAX The Spa Rochester has just been recognized as one of the 30 best therapeutic massage spas in all of Upstate NY. From Albany to Buffalo, Relax Day Spa has ranked 18 among top day spa locations.

Based on the number of reviews and star ratings on Yelp, www.nyup.comcomprised a list of the best businesses in the massage category in the Upstate NY region. This gives readers a chance to see the amazing spa options in their area.
Read the full article about Top Upstate New York Massage and Day Spas
Many of these spas are located in popular counties including Onondaga, Erie, Monroe, and Tompkins. However, #18 on this list is RELAX The Spa in Ontario County. This makes RELAX The Spa the best place to get a massage in not only the town of Victor, but the entire Rochester region.

On Yelp, RELAX received five stars and twelve fantastic reviews from customers commenting on their experiences. Popular comments included the friendliness of the staff, the quality of the services provided, and in particular, how great the facial treatments are at the spa.

Melissa Endres, General Manager of RELAX The Spa, believes that this achievement was made due to the dedication of our employees. "They make it a priority to put the customer's needs and requests above all else. We are so honored to have so many dedicated customers in the Rochester area who would take the time to review us on Yelp."

RELAX The Spa has always valued giving the finest service to guests and will continue to provide unique and rejuvenating services. If you have experienced exceptional services at RELAX The Spa, feel free to rate us onYelp, Google or Facebook.

RELAX The Spa in Rochester offers more than 70 distinct relaxation and luxury treatment options for beauty, wellness and health located in Rochester, Central New York. Our ultimate, full service, day spa provides guests with solo, couple, party and even corporate event experiences that melt away stress and provide calm. Slip into one of our luxurious robes and let our trained technicians treat you like royalty.
Read the full article on www.newyorkupstate.com: The 30 best therapeutic massage places in Upstate NY, ranked.