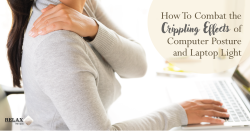 From crushing your to-do list to managing projects, people and budgets, the office can be a place of fulfillment. But over the course of a few years, powering up your computer can take a toll on your eyes, back and shoulders. A case of the corporate slouch can have a negative impact on your health. These strained muscles in your neck, shoulders and back can also create dull, constant aches around the circumference of your head called tension headaches.
According to Practical Pain Management, 48 percent of women and 38 percent of men experience tension headaches in their lifetime from bad posture and computer use. These types of headaches can also become chronic, meaning that you could have it for weeks at a time. At RELAX The Spa in Rochester we specialize in rejuvenating the stressed and tired businesswomen and men of our community.
Avoid Blue Light With New Methods
Our computers are constantly emitting blue light from white display screens. This type of light is the leading cause of eyestrain, which can contribute to horrible headaches after your workday. Try using a screen filter for your computer, or anti-reflective lenses to block that harsh portion of the light spectrum. You can also decrease your screen time by doing other unrelated activities after work including reading and cooking.
Stress Relief
Bending over a computer forms a poor, slouching posture that can place a deep strain on your muscles and eyes. Loosen the tightness in your shoulders and back by placing a heating pad on affected areas and by getting plenty of sleep. Use incense or lotion with a lavender scent to encourage uninterrupted rest so muscles are able to repair during the night.
Massage
RELAX The Spa pinpoints muscles that carry stress and tension from staring at a computer with a specialized treatment, the Back and Shoulder Massage. An invigorating experience, this upper body massage is the perfect remedy to specific problem areas, awakening the mind and unwinding achy muscles.
We can invent, design and plan all from behind a computer, but hours upon end of gazing at a screen can be taxing mentally and physically. Visit RELAX The Spa in Rochester to refresh your body and spirit so you're able to conquer the workday at full tilt.
RELAX The Spa in Rochester offers more than 70 distinct relaxation and luxury treatment options for beauty, wellness and health. Our ultimate, full service, day spa provides guests with solo, couple, party and even corporate event experiences that melt away stress and provide calm. Slip into one of our luxurious robes and let our trained technicians treat you like royalty.