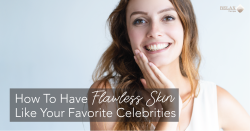 Our forever outfit is the skin we're in. It protects and heals as well as endures years, stress, college, children and weather. And it deserves a moment, or 30 days, of appreciation.
November is National Healthy Skin month, so RELAX The Spa is celebrating by sharing the five ways we can continually keep our own skin in tip-top shape.
Drink More Water
"Once I started drinking more water, my skin, hair and nails all flourished." - America Ferrera
Source: InStyle
Getting enough water into your system is the first step to healthy skin. Even America Ferrera agrees when you're dehydrated, skin tends to look duller and less firm. By drinking at least eight glasses of water per day, you can brighten and improve your skin's appearance.
Limit Sun Exposure
"I've done a lot of damage to my skin in the past, which makes me appreciate a great sunscreen now." - Kristin Davis
Source: StyleCaster
While absorbing vitamin D from the sun is great for your health, spending too much time in the sun can increase your risk for skin diseases from exposure to UV rays. If you know that you will be in the sun for a long time, make sure you use sunscreen on all unprotected areas of your body like Kristin Davis. Also try to find some shade from time to time.
Relieve Stress and Get Enough Sleep

"I think that anything you can do to remove stress will give you a better glow. That's the number one answer… I am big on a massage, when I can." - Cate Blanchett
Source: Byrdie
Go for a run, play your favorite sport, read a book or book a massage at RELAX The Spa to release contained tension in your body. Decompressing will prevent wrinkles from hard lines caused when you're under large amounts of stress and give way to an undeniable shimmer as Cate Blanchett notes.
Hydrate Your Skin

"Eat really healthily and drink a LOT of water. Just keep yourself hydrated and use your moisturizer. Hydration, hydration, hydration all round." - Jennifer Anniston
Source: Marie Claire
Jennifer Anniston perfectly sums up two pro skin tips. Constantly hydrate your skin by applying lotion and using products that don't dry out your skin. In addition to these, try to get lasting results with a RELAX Signature Hydrafacial. This service deeply cleanses and hydrates your face with the use of gentle massage and LED light therapy by detoxing your skin.
Exfoliate Whenever You Can

"Exfoliating grains get the blood circulating and leave my skin feeling clean and soft." - Gigi Hadid
Source: Cosmopolitan
Find a product that exfoliates your skin while also keeping it hydrated as Gigi Hadid does. RELAX The Spa offers a facial enhancement, the Purifying Back Treatment, which steams and exfoliates your skin. This doesn't only apply to your face either; use exfoliating scrubs for your body to create a lasting glow for your skin.
Keep your skin healthy next month, and for the months to come, by changing your habits and prioritizing your body's largest organ. By taking these steps now, you can ensure that your skin will be beautiful and healthy in the far future.
RELAX The Spa in Rochester offers more than 70 distinct relaxation and luxury treatment options for beauty, wellness and health. Our ultimate, full service, day spa provides guests with solo, couple, party and even corporate event experiences that melt away stress and provide calm. Slip into one of our luxurious robes and let our trained technicians treat you like royalty.