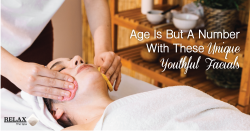 Facials are powerful time erasers.
From uneven skin tone to wrinkles courtesy of aging or laying in the sun without proper protection, facials improve the structure of your skin. Although often using different methods and techniques, facials achieve lasting results. But when it comes to deciding which anti-aging facial to get, we understand the decision isn't an easy one.
That's why RELAX The Spa is sharing the key differences between our high-end anti-aging services.
Repair and Revitalize Facial Treatment
The Repair and Revitalize Facial Treatment uses antioxidant rich plant hormones, along with Eightgreens to normalize oil production. This restores radiance by neutralizing free radicals, which can damage healthy skin cells. The Repair and Revitalize Facial Treatment
helps to reduce fine lines, wrinkles and inflammation. It can also stimulate the regeneration of cells.
This facial helps to increase circulation and balance hormone levels in your skin. This not only tightens and firms your skin, but it also fights acne by stimulating collagen production. According to Melissa Endres, the General Manager at RELAX The Spa, Collagen production is what makes your complexion firm, plump and youthful. Because of this, any product that increases blood flow and oxygenation makes your skin healthier.
Age Defying Facial
This particular facial not only helps with anti-aging, but it even assists your skin with contouring! With the use of NuFace technology, you can prevent further damage to your skin cells and restore luminosity. Sending low-level currents into your skin soothes and tones your facial muscles. Once this microcurrent technology is used, you will start to see the results with slimmer and more youthful skin. This treatment also gives your skin elasticity by increasing collagen production and supporting rehydration.
Age Corrective Facial
The third anti-aging facial offered at RELAX The Spa in Rochester, NY can visibly reduce the signs of aging. You will be able to immediately see the difference once you've received this particular treatment. With the use of products containing vitamins A, B and C your collagen is boosted like never before. This facial also includes the use of swiss green apple stem technology, which helps your skin repair its own damaged cells. The Age Corrective Facial's intense treatment is not recommended for sensitive skin, but works wonders on those people who do receive it.
No matter your age or skin type, RELAX The Spa in Rochester has a facial that will enhance the look and feel of your natural skin. The three services provided are guaranteed to help your skin by increasing hydration, reducing fine lines and wrinkles as well as firming and tightening which assists with increasing healthy skin cell production.
Book a facial at RELAX The Spa today by calling 585-412-4994.
RELAX The Spa in Rochester offers more than 70 distinct relaxation and luxury treatment options for beauty, wellness and health located in Rochester, Central New York. Our ultimate, full service, day spa provides guests with solo, couple, party and even corporate event experiences that melt away stress and provide calm. Slip into one of our luxurious robes and let our trained technicians treat you like royalty.