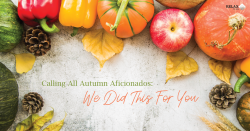 Autumn isn't simply a season on the calendar.
It's a cozy knit blanket and swirls of steam from a warm mug type of feeling.
It's watching tall trees release their golden leaves and recognizing that change can be a beautiful thing.
"I'm so glad I live in a world where there are Octobers."
- Anne of Green Gables


And at RELAX The Spa in Rochester, fall is also a sweetly scented, pumpkin-laden path to indulgent pampering.
October marks new day spa treatments for the fall-lover in us all. Try these three memorable season-inspired add-ons to favorite services.


Pumpkin-Chai Wrap
Revive dull, dry skin courtesy of our seasonal body wrap. Surrender to total relaxation as day spa experts dry brush to stimulate your lymphatic system and exfoliate your skin. We then wrap you in our organic pumpkin puree steamed with nourishing whole milk and chicory root. Skin is left dewy and moisturized.
Caramel Apple Pedicure
We're plucking your favorite caramel sweet treat out of the carnival and giving it a grown-up spa spin this fall! Bask in a hot, bubbling spiced-apple cider fizzing soak with vitamin E and sweet almond oil. After an invigorating whipped honey sea salt exfoliation, you'll be painted in a warm honey glaze moisture serum that deeply hydrates and brings a healthy glow. A creamy caramel body milk massage completes your sweet and scrumptious treatment. You'll smell good enough to eat.

Perky Pumpkin Facial
Say goodbye to a dull and dry complexion with our pumpkin facial. Organic pumpkin puree is added to a nutrient-based mud mask to purify and shrink the look of your pores. Your skin will be left with a dewy glow.
Pick one, pick two or pick all three of these dreamy seasonal day spa treatments to try this autumn at RELAX The Spa in Rochester.
RELAX The Spa offers more than 70 distinct relaxation and luxury treatment options for beauty, wellness and health located in Rochester, Central New York. Our ultimate, full service, day spa provides guests with solo, couple, party and even corporate event experiences that melt away stress and provide calm. Slip into one of our luxurious robes and let our accommodating trained technicians treat you like royalty.