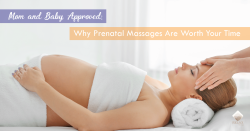 "Everything grows rounder and wider and weirder, and I sit here in the middle of it all and wonder who in the world you will turn out to be." - Carrie Fisher
What a bizarre and exhilarating little rollercoaster we're on. There are these overwhelmingly sweet moments of hearing the babies' heartbeat to measuring her growth from the size of a poppy seed all the way to a pumpkin.
And then the rollercoaster takes a sharp left turn and your legs may begin to cramp or your lower back begins to throb.
As you coast into your second or third trimester, RELAX The Spa in Rochester has healing and helpful hands with a treatment especially for mothers and their specific aches.

"It was the first time in months that I totally forgot about the discomfort I was feeling in my body and just relaxed," said Kate, an expecting mother who sought out the day spa for a Rochester Pregnancy Massage. "Being pregnant has not been easy."
Designed specifically for women in the second and third trimesters of pregnancy, this deeply soothing prenatal massage therapy works to improve circulation, reduce swelling in hands and feet and release tension in the lower back, neck and shoulders. And it's as glorious as it sounds.
"I love the atmosphere in the room at RELAX and the time the massage therapist spent on my legs and feet," said Nicole, a mother who just welcomed baby Penelope to the world. "Carrying more weight around makes for sore legs. I also liked the position she put me in (on my side) I have never had a body massage on my side. It was wonderful."
It's natural to have some hesitancy before trying something new for the first time. This thought is only amplified during a pregnancy. Our massage therapists are trained to support and soothe your mind and body for relaxation, which otherwise you may have thought was unattainable.
"I was initially worried that I would feel out of place or hyper-aware of my pregnant body, but the staff is so nice and did such a great job helping me to relax," said Kate. "My massage therapist did an incredible job!"
Areas of focus our expecting mothers ask for extra special attention are the legs and back. We spend ample time releasing aches and tension from these points.
"The calf massage and lower back was my favorite part," said Kate. "My calves have been oddly twitchy since my third trimester began, so it was nice to get that aching feeling out."
Self-care is the best care for you and your baby. Put down your phone, close the computer and reconnect with the tiny thumping heartbeat of your sweet little lemon (…then apple then avocado and so on).


"It's important to take care of yourself during the pregnancy," said Nicole. "Our bodies go through major changes when growing a little human so it's important to recognize that, and give your body some love. It helps you stay present and enjoy the miracle of your pregnancy."
RELAX The Spa does not offer massages in the 1st trimester of pregnancy. Ask your doctor if massage is recommended for you.


RELAX The Spa in Rochester offers more than 70 distinct relaxation and luxury treatment options for beauty, wellness and health located in Rochester, Central New York. Our ultimate, full service, day spa provides guests with solo, couple, party and even corporate event experiences that melt away stress and provide calm. Slip into one of our luxurious robes and let our trained technicians treat you like royalty.