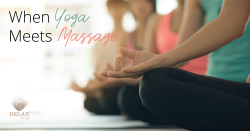 A yoga mat is an oasis from the commotion. Not only is it a mental escape but a physical retreat where muscles can enter into a deep state of relaxation.

A Stretching Yoga Massage at RELAX The Spa in Rochester takes both principals to guide guests through gentle movements and flowing stretching exercises in order to create space within the body. This allows the muscles and connective tissues to lengthen and loosen which can boost flexibility and joint range of motion when done regularly.

This treatment may also include acupressure to the face and other energy lines within the body. Roughly 50 percent of the time is focused on the lower body including the hips, legs and feet. About 35 percent is spent on the arms and back and the remainder is spent on the head, neck and face. Of course, this can change based on what the guest's needs are. Another part of the treatment includes compression.

"The massage therapist will perform this massage technique by laying their hands on the muscle area and pushing down into the tissues and then releasing in a rhythmic motion," said Stephanie Schutt, RELAX The Spa massage therapist. "Extremely tight muscles often become ischemic, meaning there is a lack of blood flow to the area. By doing compression, blood flocks to the area upon release, allowing oxygen and nutrients into your tissues."
Increase Flexibility and Fitness
Extreme flexibility isn't required to enjoy a Stretching Yoga Massage. In fact, it is of great benefit for someone who isn't very flexible to receive it on a regular basis to increase his or her reach. The massage therapist will work within the guest's limits and make sure that they are comfortable the entire time. However, the massage is not recommended for someone with a recent injury.

This treatment allows you to enter a meditative state by focusing on your breathing and imagining those tight muscles loosening can have a profound effect. Through assisted stretching, space can be created within these tissues to allow the flow of blood, oxygen and nutrients, and as a result, boosted energy.

"Tightened muscles can drain energy," said Stephanie. "When this energy can't flow freely your flexibility diminishes and you will feel stiff or in pain. Over time these shortened muscles and connective tissues can affect your posture, immunity and organ function. It will help make you feel balanced."

As we all work through stiff, achy and tight muscles, especially athletes, the yoga mat transforms into a welcome mat to full-body rejuvenation. Book your Stretching Yoga Massage as a reward for your summer workout training, as a post-race treat or simply to steady the mind and the body.
RELAX The Spa in Rochester offers more than 70 distinct relaxation and luxury treatment options for beauty, wellness and health located in Rochester, Central New York. Our ultimate, full service, day spa provides guests with solo, couple, party and even corporate event experiences that melt away stress and provide calm. Slip into one of our luxurious robes and let our trained technicians treat you like royalty.