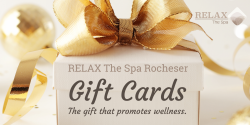 It's the perfect present for holidays, birthdays, anniversaries, graduation, or to say a special thank you. Give the gift of wellness and relaxation to your loved ones with a RELAX The Spa Rochester gift card!


RELAX The Spa Rochester's Top 5 Reasons to Gift a Spa Gift Card

1. Your Gift will not go to Waste
No matter whom you give a spa gift card to, they will have several choices and ways to use it. RELAX The Spa offers a wide variety of treatments and services, from massage therapy, body treatments, skincare, waxing, nail treatments, to choosing a retail product at the retail boutique you can't go wrong!


2. Our Gift Cards are Valid for 5 Years
Don't worry about a busy schedule, RELAX The Spa's gift cards are valid 5 years from the date of purchase.


3. Give a Gift that Promotes Wellness
Spa treatments improve your heath and well being. The effects can allow the body time to re-generate, improve blood circulation, release serotonin, and eliminate body toxins. These are just a few of many benefits you can experience during your visit to the spa.


4. Everyone Needs Relaxation
Between holidays, family events, working, and many other important responsibilities, stress and lack of time for yourself can become very overwhelming. A trip to RELAX The Spa provides a stress-free atmosphere. Feel your struggles wash away as you walk in the door.


5. It's A Unique and Different Experience
The majority of men and women expect to receive a gift card to a restaurant or clothing store. A Spa gift card is very unique, many people who receive a gift to the spa would have never thought to purchase it for themselves. RELAX The Spa Rochester gift cards make the perfect gift for anyone!




Our spa estheticians are trained to provide excellent service catered to our guest specific needs. Gift a calming and rewarding experience for your loved one. You can purchase a RELAX The Spa Rochester gift certificate online to email, or stop in the spa to pickup a plastic gift card that is beautifully wrapped. Online gift cards can be purchased at RELAX The Spa's website under gift cards. RELAX The Spa Rochester is located just off the thruway and across from Eastview Mall. 235 High St Ext, Victor, in the bright blue building. Call 585-412-4994 for details or visit www.rochester.relaxthespa.com today.