Massage therapists relieve pain, release tension in bound-up muscles, and reduce stress too. Many therapists ask about the unique benefits of working in a day spa setting. From Swedish massage to sports massage, massage therapists can live happier, more successful lives when working in a Rochester day spa.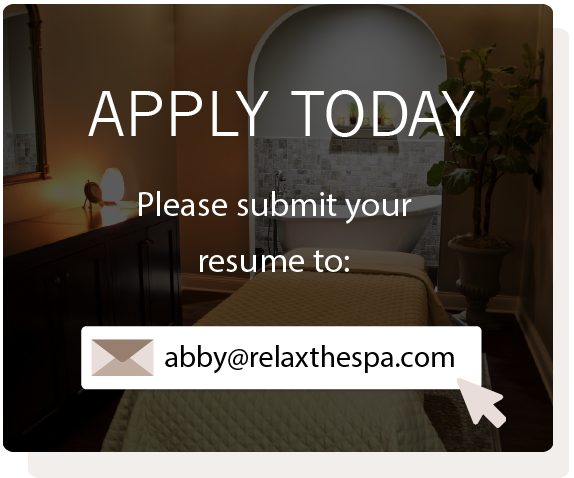 1. Good work-life balance

Massage therapy employees working within a team report a higher level of happiness and lower levels of stress. Day Spas have a quiet, serene spa environment available to see guests 7 days per week. There are no noisy blow dryers or children arriving home from school, the day spa is calming 24/7.


2. Steady Supply of New Guests

Let the spa handle marketing and advertising while you focus on the needs of your guests. "Being a spa massage therapist can literally cut your responsibility in half," according to the Institute for Integrative Healthcare. There are also frequent last minute bookings to fill in the schedule.


3. Medical, Dental, Disability Benefits

The employee benefits vary based on location and full time or part time work, but working at a day spa can offer important benefits including medical insurance, dental insurance, and disability insurance.


4. 401K Retirement Plan

Being an employee of a day spa can offer the option of retirement savings in a 401K account. Relax the Spa in Rochester offers a 50% employee match. Starting a retirement account in your 20's and 30's offers the compounding effect of accrued interest, so start right away to ensure a comfortable retirement.


5. Couples Massage

The day spa facility has larger rooms setup for couples massage, and a team of therapists to collaborate to offer couples massages. There is a wedding anniversary celebrated every single day of the year, so being in a day spa offers a constant supply of couples massage guests.


6. Flexibility

The flexibility of working in a day spa can be a huge benefit to employees. Some share childcare responsibilities with a spouse by working just evenings and weekends. Having a set schedule offers better work – life balance and opportunities for personal and professional growth. There is also great flexibility in the type of services available, such as body wrap, soaking tub and vichy shower.


7. Customer Service Focus

Guests are looking for an escape from the stress of daily life, and massage therapists in a day spa can provide a full spa day experience. This includes a team of other therapists to complement the guest's needs for facial and nails, as well as a hospitality team to make tea and handle the checkout process.


Relax the Spa Rochester is a leading employer of licensed massage therapists, estheticians and nail technicians in Victor NY. We are currently hiring caring, talented licensed massage therapists. Apply online or email resume to abby@relaxthespa.com for a personal interview. Better yet, stop in with your resume, we are open 7 days a week. Located across from Eastview Mall in Victor.