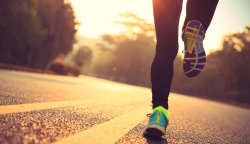 Top Foot Issues Facing Rochester Runners
Running as a sport has become a true lifestyle for many. Many spa guests run ultra-marathons, marathons, half marathons, 10ks, or 5ks and their feet will make or break their goals of this sport.
Rochester Runners sometimes avoid spa pedicures because their feet are in bad shape. Many think that's just the way it is and settle for black or missing toenails, blisters, foot fungus, foot odor, foot pain, and leg pain. These can be part of the trauma caused by the effects of running. But every runner can still enjoy a spa pedicure and get expert recommendations on products for better foot care.
The Black Toenail
This is caused by bleeding under the nail, also called subungual hematoma. Much like slamming your finger in a door, this is the jamming of toes against the top of the shoe over and over, causing severe bruising. This can be due to running style, a shoe not properly fit or a shoe not designed for that particular foot. A traumatized nail is always more susceptible to nail fungus.
Ingrown Toenails
Proper trimming of the toenail is crucial! Never round the edge or cut the corners off. This can lead to extremely painful ingrown toenails, fungus, foot pain as well as leg pain.
Blisters from Rochester Running
A full marathon is over 26,000 steps or strikes to the ground and that does not include your regular, daily activity. That's a lot of steps and trauma! Probably one of the most common problems runners face. Blisters are caused by friction from improper shoe fit, improper lacing of shoe or a shoe not designed for that particular foot. If blisters develop during a run, they can stay intact or break. Never pop a blister! Punctured blisters or the removal of that protective skin layer can lead to an infection.

Rochester Runners often suffer from a foot fungus and are not aware. It can look like dry rough skin, or damp, moist peeling skin. Peeling skin of the foot often gets confused with dry skin and needs an anti-fungal, not a moisturizer.

Stop in to the retail boutique at RELAX The Spa Rochester for a variety of foot treatment options and at-home care solutions to take care of your runner's feet. Runners also enjoy our Stretching Yoga Massage, and Reflexology Foot Massage for a head to toe race relief. Call 585-412-4994 or visit the RELAX The Spa Rochester app to schedule online.